A fantastic masterpiece which is not only needed in this present time, but is just a fabulous read.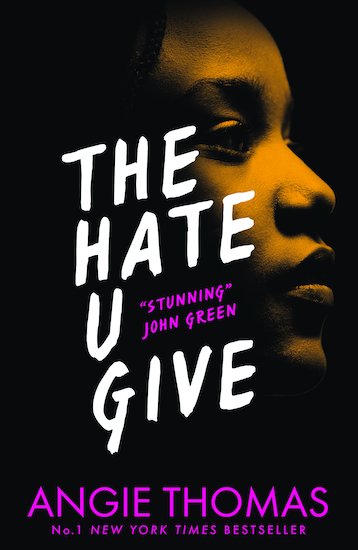 The Hate U Give is an exciting coming of age which describes the double life of teenager Starr, who deals with the aftermath of the death of her friend Khalil, due to Police Shooting.
With pressing issues of police brutality in American, Angie Thomas tackles uncharted literary territory in tackling the police brutality through the eyes of a young girl. Not only does this book look at this topic, but shows insight of other divides in society within the communities. Starr shows the struggle between class and race divide, although living in the 'ghetto', having to hide that side of her when she goes to school in an upper-class area. Being a young girl, finding herself whilst dealing with the loss of her friends to police shooting, Thomas wonderfully and cleverly depicts the struggles through the lens of a wise young girl.
Characters in this book were also used to represent the different problems faced in society. Starr, dating a white boy, in a school where she is one of two black students, often having to put on a facade depending on who she is with, and where she is, a predicament also faced by young people. Battling between "Williamson Starr" and "Garden Heights" Starr, the contrasts between the two sides of herself, Thomas excellently shines a light on the pressure to conform to the standard placed upon young people. Starr's uncle Carlos, a black man who also works in the police force shows how not all police is bad. However when it comes to facing a personal issue whilst in a workplace, it isn't always easy to separate work with personal life. DeVante, a young boy who was originally followed the pattern of being involved in drug and gang behaviour,defies the stereotype and fights following the pattern, and tries his hardest to make it out.
Lisa and Maverick – Starr's parents' arguments highlights the battle between wanting to keep loyalty to home neighbourhood and not be labelled as a "sell out", but also bringing up children in a safe environment. Maverick, being an ex-convict, who was incarcerated when his children were growing up, also has his own journey of putting his differences' aside with Carlos, who grew up with his children, and accepting that leaving an area doesn't mean leaving your loyalty to it behind.
We see Starr's journey in finding her identity, and her voice for not only standing up for justice but for standing up for herself and what she believes in, regardless of the opinions of others, preserving the memory of her friend Khalil, standing up to her friends' racial comments, Starr shows strength and courage in finding her own voice.~ "Brave doesn't mean you're not scared. It means you go on even though you're scared"~
As often with police brutality cases, Khalil's case doesn't end in justice which leads to protests. This highlights the fact that in most cases the problem, of justice is never really found. Trayvon Martin, Sandra Bland, Mike Brown, Eric Garner, Philando Castile. "People like us in situations like this become hashtags, but they rarely get justice. I think we all wait for that one time though, that one time when it ends right." Although results don't always end up in justice, this reminds us to keep the faith that one day, it could end up right.
Angie Thomas gives valuable lesson to all of us, about being brave, being strong and standing up for what is good and what is right.
"Sometimes you can do everything right and things will still go wrong. The key is to never stop doing right".
~T.K.
The film adaptation of the book is out now !